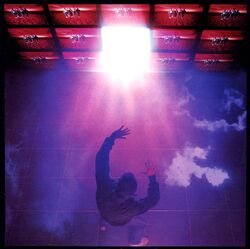 Beat the System is the seventh album from Christian rock band Petra. It was released in January 1985 by Star Song Records. It is the first album to feature John Lawry in keyboards, and the last studio album to feature lead singer Greg X. Volz.
Album history
Edit
Shortly after the band finished touring for More Power to Ya, keyboardist John Slick left the band. Heading to the studio, producer Jonathan David Brown approached keyboardist Carl Marsh to help him in the recording of Beat the System. Eventually, Brown decided not to use band members Louie Weaver and Mark Kelly for the recording of drums and bass respectively. Instead, he asked Marsh to record the instruments using a Fairlight synthesizer.
Beat the System was recorded and mixed by Brown at Mama Jo's Recording Studio and The Bennett House Recording Studios. Mastering was again done by Steve Hall at Future Disc Systems. Rhett Lawrence and John Lawry, who was hired towards the end of the recording, added overdubs and effects to some songs.
Musical style
Edit
Although Petra had already featured keyboards notably in their previous album, the techno-like sound is more prominent in Beat the System. This is more evident because the album features synthesized bass and drums, performed by Carl Marsh. For example, songs like "Computer Brains" and "Witch Hunt" rely mostly on keyboards and special effects.
The album also features a new version of the song "God Gave Rock 'n' Roll to You", which the band had previously recorded in 1977.
Reception
Edit
Beat the System was the second Petra album to be nominated for a Grammy Award. It was nominated in the category of Best Performance by a Gospel Duo, Group, Choir or Chorus.
Track listing
Edit
All songs written by Bob Hartman, except where noted.
Personnel
Edit
Additional musicians
Edit
Recording and production
Edit
Art design
Edit
External links
Edit
Community content is available under
CC-BY-SA
unless otherwise noted.