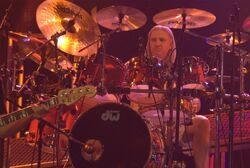 The drummer of a band is the member who performs music using the multi-percussion instrument known as the drum set. The drummer usually sits in the back of the stage during a performance, and his primary function is to keep time or provide a tempo or rhythm to the music.
Petra has had four official drummers through its career, with others performing under an unofficial status as either temporary drummers, session drummers, or touring musicians.
These are the drummers of Petra through its trajectory.
Other drummers that have played with the band in some way are:
Community content is available under
CC-BY-SA
unless otherwise noted.