Gregory "Greg" Hough (born September 22, 1949) is an American musician, guitarist, singer, and songwriter. He was one of the founding members of Petra and its first guitarist. Hough also sang lead vocals with Bob Hartman during the first years of the band. He was a member of Petra from 1972 to 1978.
Biography
Edit
Hough was born on September 22, 1949. Due to his mother's condition of schizophrenia and the divorce of his parents, he was raised by his grandparents. It was at his grandparents house that he started playing guitar. At age 15, he started a band with some friends and they started writing music. A while after, he started playing at a bar with the consent of his grandfather, which he continued to do until he was 19 or 20 years.[1]
At age 21, Hough attended a Bible study where he became a born-again Christian. In an interview, he says that God told him he would play music for Jesus.
After that, Hough attended the Christian Training Center in Fort Wayne, Indiana from 1972 to 1974 where he received an Associate's Degree in Biblical Studies. During that time, he met fellow musicians Bob Hartman and John DeGroff, and formed Petra together with drummer Bill Glover.
During the first years of the band, Hough shared songwriting and singing duties with Hartman. Together, they released two albums: Petra and Come and Join Us.
After Petra
Edit
Hough left Petra in April 1979 after almost seven years with the band. He continued to play Christian music with bands like Ransom, Ju'so, as well as the alternative-country trio Andrews, Hough, and Dan.
Aside of his musical career, Hough studied Biology at Purdue University from 1980 to 1982, where he received a Bachelor's degree. He continued studying from 1982 to 1986 at the National University of Health Sciences, after which he received his Doctorate in Chiropractic. He has been practicing medicine since, starting a clinic called Fort Wayne Chiropractic in 1989.
Recent musical ventures
Edit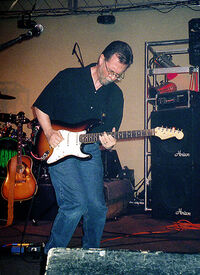 In 2003, Hough rejoined Bill Glover in a project called GHD. Some time later, John DeGroff also joined the project and the band changed its name to GHF (for "God Has Forgiven"). They released an album in August 27, 2013 called Volume One.
In June 12, 2004, Hough and DeGroff joined Bob Hartman on stage in a reunion of the original Petra line-up held in Angola, Indiana. The trio, rounded out by Paul Simmons on drums, played a set of seven songs.
Hough wrote the following songs for Petra:
References
Edit
External links
Edit
Community content is available under
CC-BY-SA
unless otherwise noted.