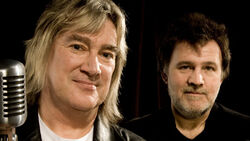 II Guys from Petra is a musical collaboration between Petra founder Bob Hartman and longtime singer John Schlitt. The project surfaced after Petra's retirement in 2005, and released an album titled Vertical Expressions in January 26, 2007.
After Petra's retirement in 2005, both Schlitt and Hartman were pursuing other ventures outside of the music business. However, when Hartman received an invitation to lead worship at a youth retreat in Canada, he invited Schlitt to team up with him. As they began arranging popular worship songs together, they decided to make an album together. The album, titled Vertical Expressions, was released in January 26, 2007.
After the release of the album, the duo went on tour through various churches in the United States, mostly performing acoustic sets of the album songs.
External links
Edit
Community content is available under
CC-BY-SA
unless otherwise noted.