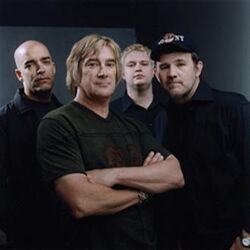 Justin Johnson is an American musician, producer, and drummer. He toured with Petra during 2003 after the firing of Louie Weaver, but was never an official member of the band. Johnson was replaced that same year by official drummer Paul Simmons.
Johnson began working as a session drummer after graduating high school. In 2001, he and his wife moved to Nashville, Tennessee to find more opportunities to play.
In 2003, he was approached to serve as touring drummer of Petra during the Jekyll & Hyde Tour. Petra's longtime drummer Louie Weaver had been fired earlier that year, and Johnson stepped in to fill in for him. Despite not being an official member of the band, he is featured in the Jekyll & Hyde album photograph and in some promotional pictures.
Johnson played with Petra through the tour, until they hired Paul Simmons as their official drummer. Schlitt spoke about Johnson in a later interview saying:
"He's an excellent guy, a good drummer, and he worked his tail off for us. We appreciate him very much, I pray that his talents will be used with someone. We just really felt deep down that he wasn't the right guy for us."
After touring with Petra, Johnson also played for Christian singer, Carman. In 2004, he began producing.
In 2010, Justin moved to the United Kingdom where he has continued his career in producing. He works for Django Promotions.
External links
Edit
Community content is available under
CC-BY-SA
unless otherwise noted.