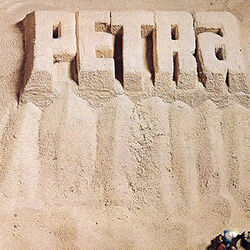 Petra is the eponymous debut album from Christian rock band Petra. It was released on April 15, 1974 by Myrrh Records. Other than being the band's first album, it is notable for its unique musical style more akin to country and southern rock, and for not featuring a separate lead singer. Instead, the lead vocals are shared by guitarists Bob Hartman and Greg Hough.
Album history
[
]
In 1973, Myrrh founder Billy Ray Hearn signed Petra to a record deal. He also served as producer. Hearn was quoted later saying that he knew Petra was "the most radical thing around ... as far out as anything that had come out until that time."
The album was recorded at Milam Studios in South Pekin, Illinois. This was achieved with a limited budget of $1,000 during a period of 2 weeks. Most of the songs in the album were written by Bob Hartman, except for "Wake Up" and "I'm Not Ashamed" which were written by Greg Hough.
Musical style
[
]
Unlike their future releases, Petra's first album features a style more similar to country and southern rock, than the hard rock they became known for. This early style has been compared to bands like Lynyrd Skynyrd, The James Gang, and The Eagles. The guitar technique and dual solos are reminiscent of the Allman Brothers, Wishbone Ash, and Thin Lizzy as well. Guitarists Bob Hartman and Greg Hough also alternate lead vocals on the songs, with each of them providing background vocals as well.
The album also features the humorous country tune "Lucas McGraw". The song features Hartman and Hough playing the banjo and the mandolin respectively. Drummer Bill Glover played the bass guitar during the song, but he wasn't credited. The album also features the song "Backslidin' Blues", which is notable for being the first contemporary Christian blues song put on vinyl.
Track listing
[
]
All songs written by Bob Hartman, except where noted.
Personnel
[
]
Petra
[
]
Recording and production
[
]
External links
[
]